Valiant Force II Character Guide System Event
Lily is a R-Rank Healer character from Valiant Force 2 who has the ability to heal teammates in groups. Plus, after healing, she also grants a continuous healing buff to all teammates healed by her. In addition to that, she can also deal buffs that increase magic defense as well.
Lily's unique skill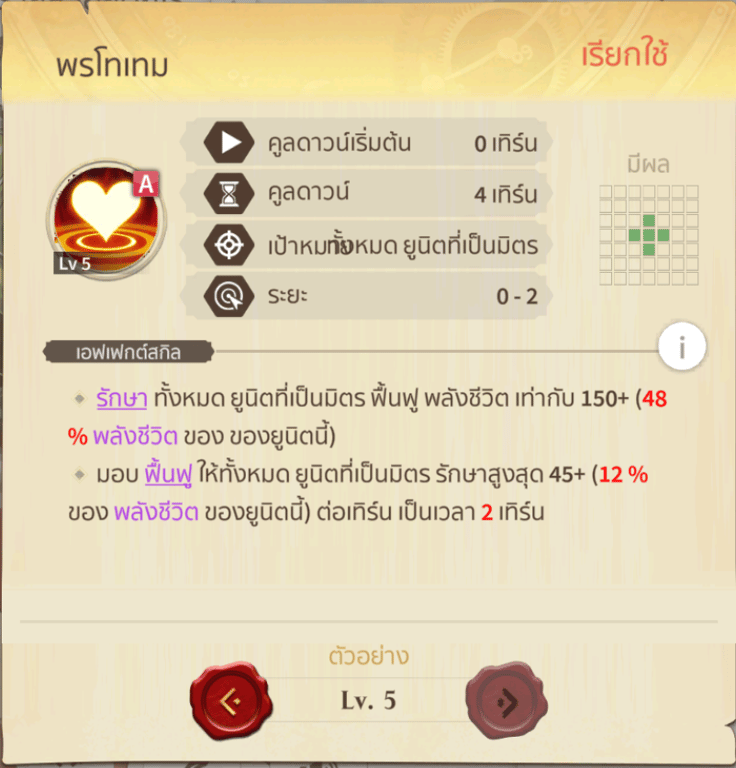 blessing totem
Initial Cooldown: 0 turns
Cooldown: 4 turns
Target: All friendly units.
Distance: 0-2
Max skill level: 5

Skill effect
Heal

all friendly units, heal for 150+ health ( 48% of this unit's health ).
Give all friendly units

heal

up to 45+ ( 12% of this unit's health ) per turn for 2 turns.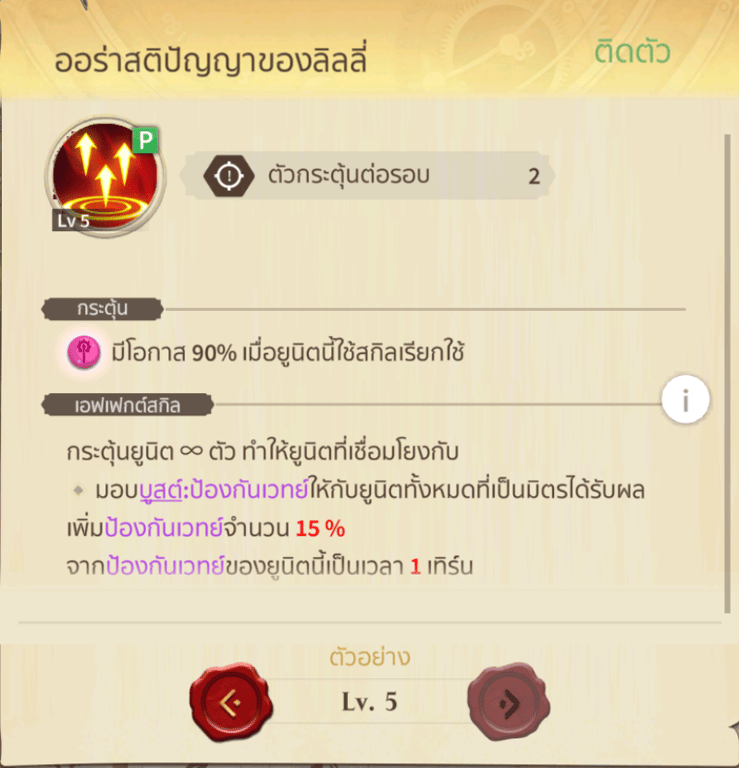 Lily's Wisdom Aura
Trigger per round: 2
Has a 90% chance when this unit uses an active skill.

Skill effect
Activate ∞ units, causing the unit associated with it to grant

Boost:

Magic Defense to all friendly units, gain 15% Magic Defense from this unit's Magic Defense for 1 turn.
Job Detail Lily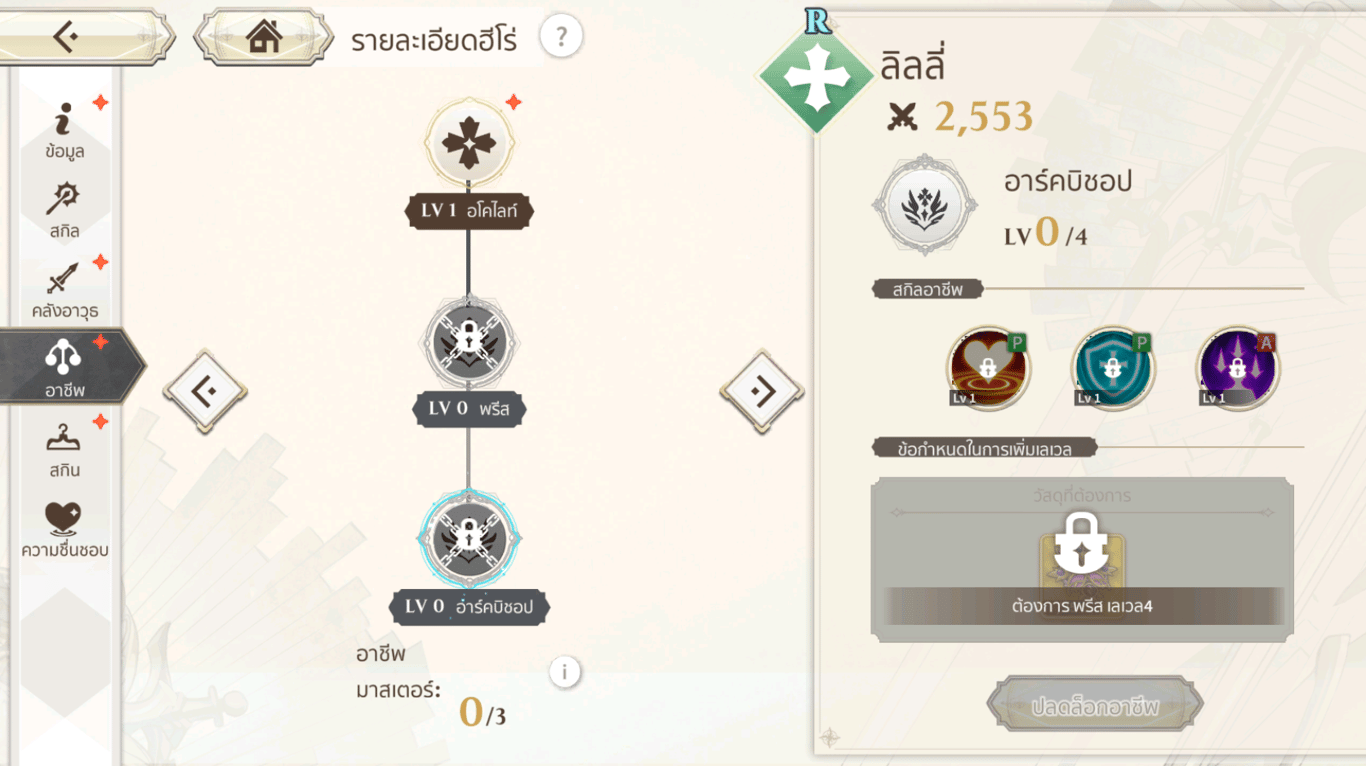 Review Lily
PVE CONTENT: Lilly is a pretty good healer character. In the absence of any SR or SSR healer characters, what Lilly does well is Able to heal teammates in groups quite powerfully It also grants a magic defense buff to those linked to her. She is also a archbishop job. By this job, there is an abnormal status resistance buff skill. Which makes her a pretty complete healer.
PVP Contents: In the Arena Lily is not very nice to use. Because the healer characters in the arena are not very useful. If that character doesn't have a buff barrier to the character Abort. Therefore giving our team characters a chance to be hit with damage in a focused way You can only die from one hit.
Recommended Team : Because Lily is a healer character. therefore making it possible to go with every team Recommended teams are Altima, Lily, Jenny, Elise/Vincent and Lola/Madeleine/Eden. In which this team has Altima to add healing to the team therefore making everyone's survival rate quite high
Recommended item set
R-Rank Items : Amity Set 4pcs + Protection Set 2pcs
R+ Items : Faith Set 4pcs + Defense Set or Severe Set 2pcs
Tier SR Items : Descendant Set* or Opponent Set** 4pcs + Defense Set 2pcs

*Intuitive Set – Allows Lily to get hit normally and has a 20% chance to dodge when HP is over 90%.
**Opponent Set – Makes when Lily's health is below 30%, get 1 stack of Final Chaiyaphum (Anti-Death) buff, but the disadvantage is that if hit by a Monty die at once, the set effect will not work.
Lily's Profile
| | |
| --- | --- |
| sex | female |
| height | 162 cm. |
| weight | 49 kg. |
| place of birth | Rotonga Islands (southwest of Aratos Ring) |
| like | healing arts, sister care, tropical fruits, fish, cats |
| do not like | Cold weather, thunderstorms, messy kitchens, bullying. |
| series | peacekeeper |
Story
Name: Lily Grace
Lily Grace, a cheerful and compassionate healer. She is revered and famous among the Rotongan people. No matter who happened to meet her during the journey They all said with one voice that she was a full healer. kindness and brightness

Moreover, her honest personality made the onlookers feel the sense of justice that overflowed within her heart. And because of these qualities, she helps many people regardless of race or religion.
favorite group
Favorite group bonus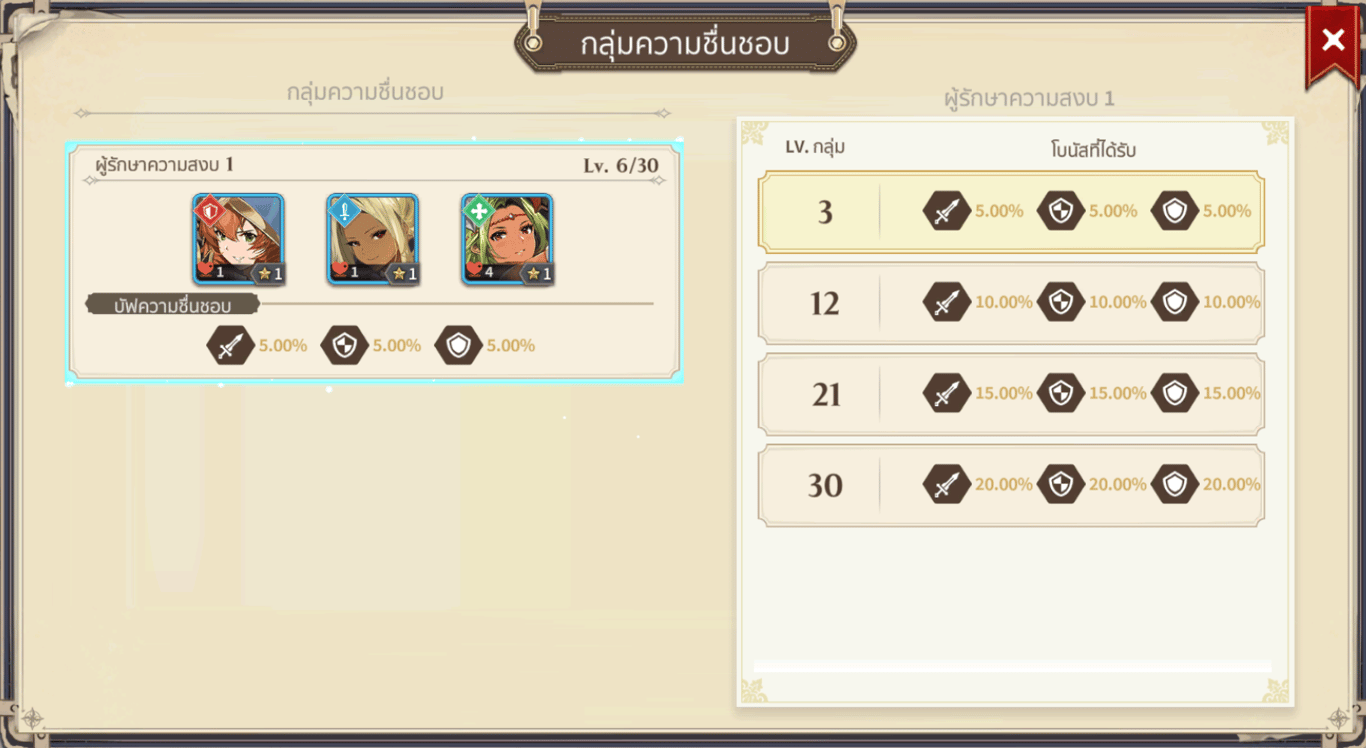 Screen Shot Lily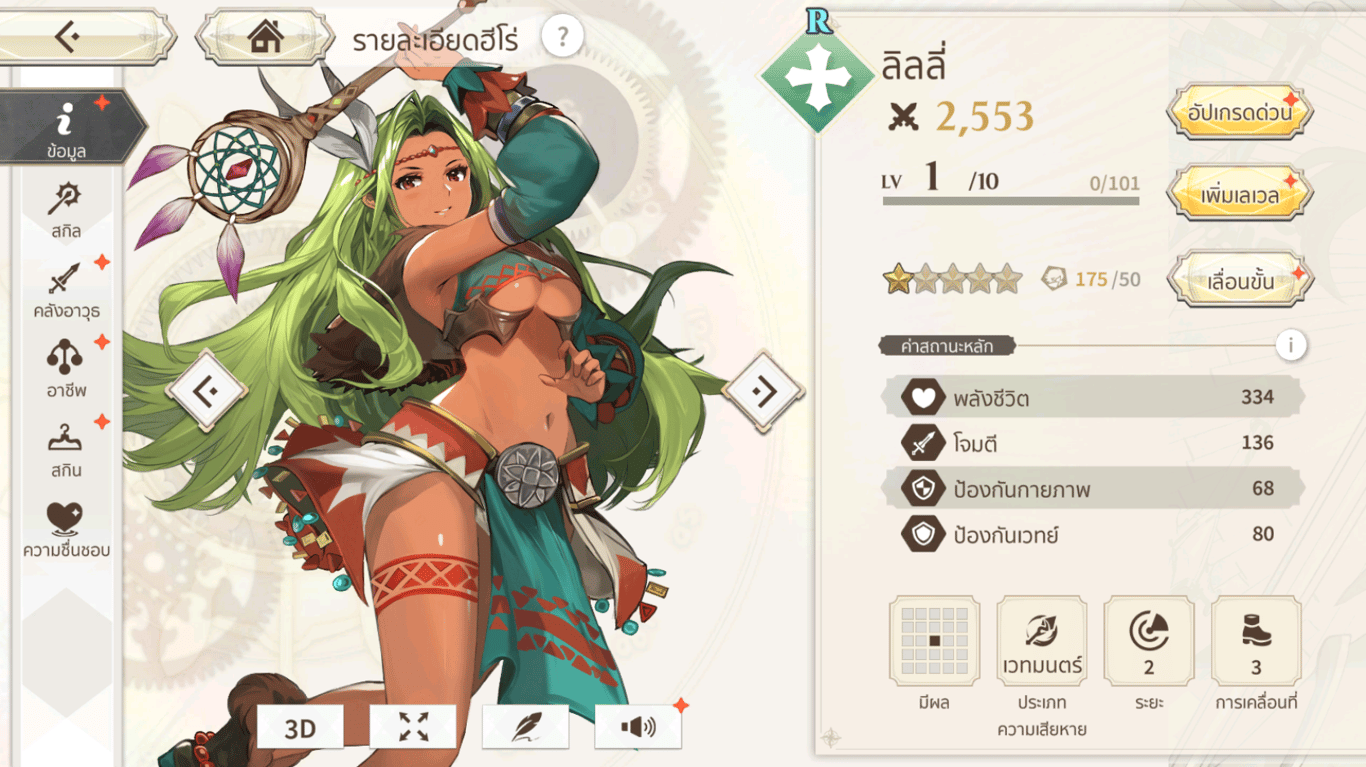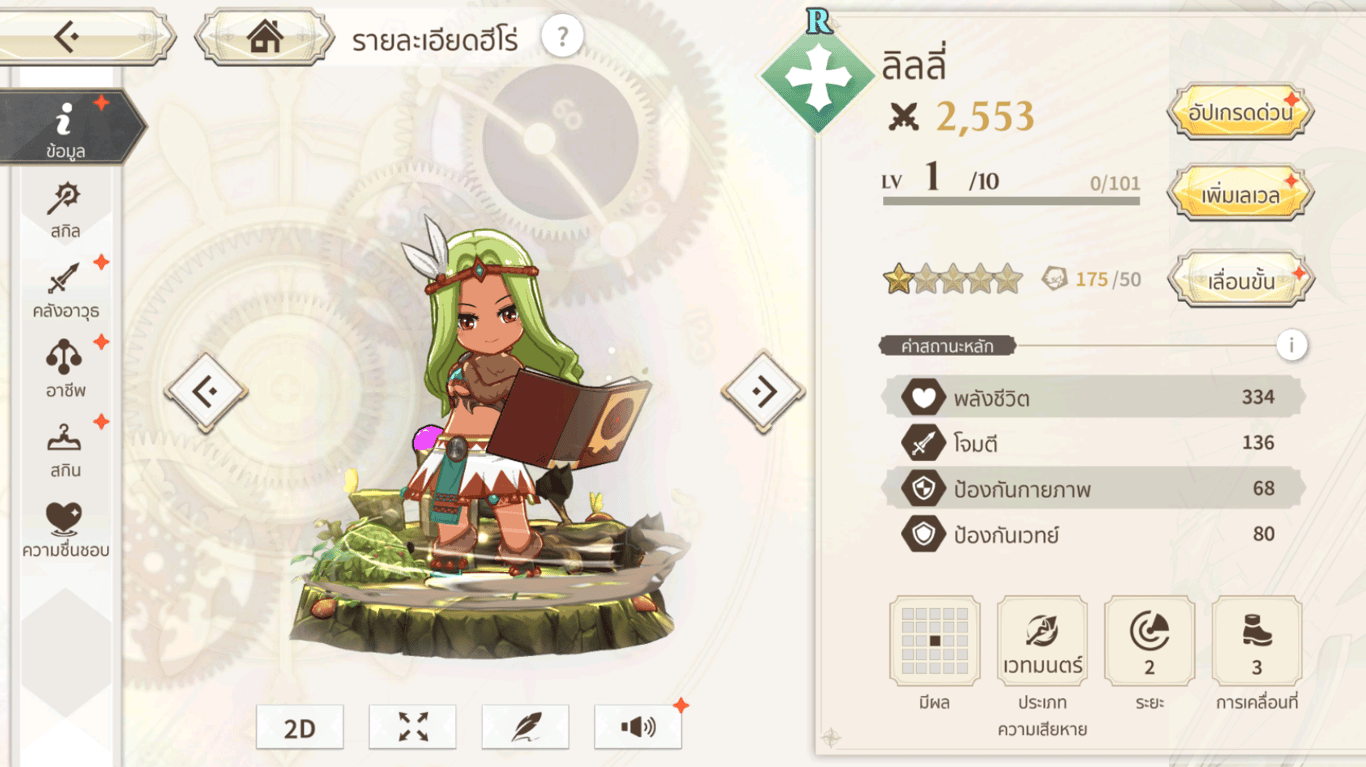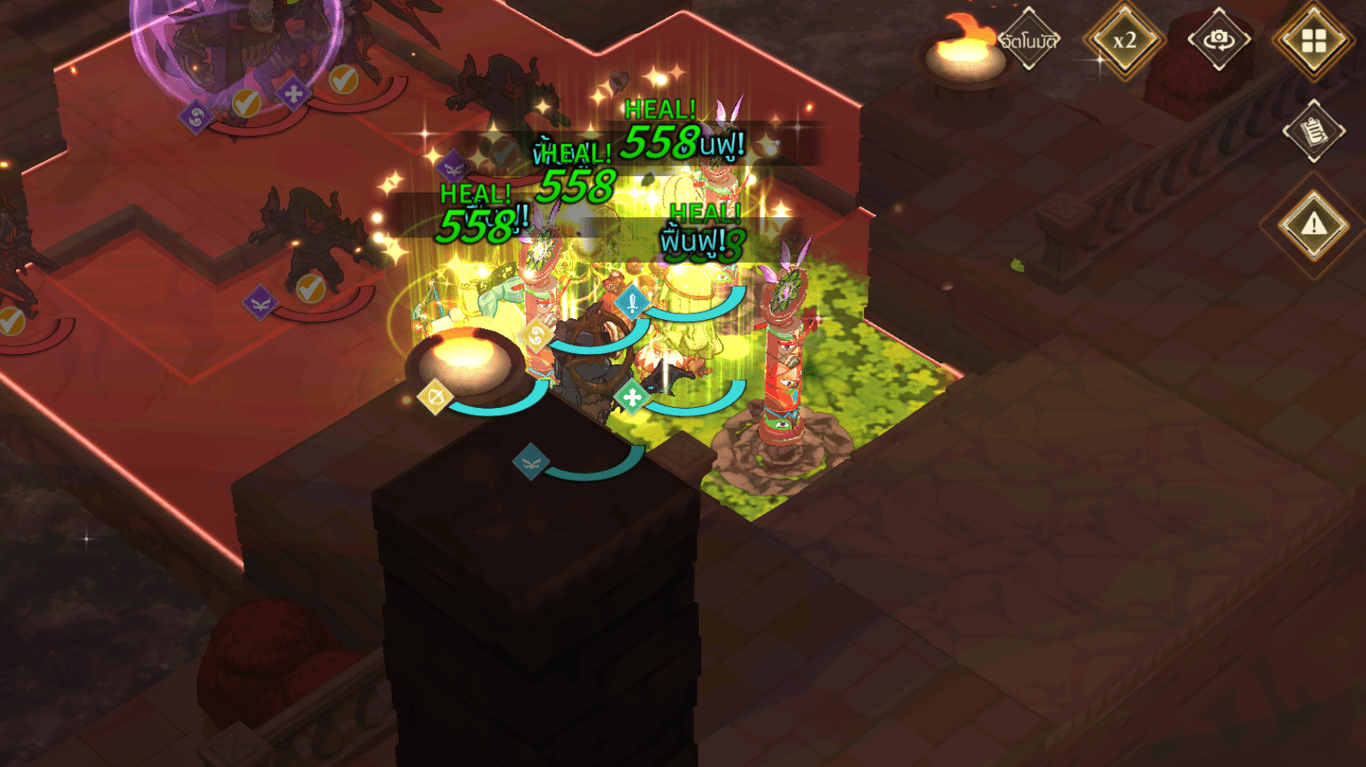 download game